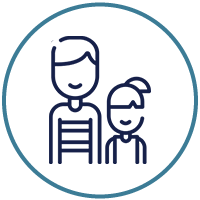 Child and Adolescent Services
At Mindful Medicine, we know that a healthy childhood is the key to a thriving adulthood. We are passionate about helping kids find their true selves so that they can feel happier, function better, and embrace a brighter future.
Addressing mental health early can have an impact that can last a lifetime. We often emphasize the role of therapy, sleep, food, physical activity, sunlight, and many other components that contribute to a better mental state. Though we believe medication can be a piece to the puzzle, we aim to find the least amount of medication for the maximum amount of benefit. We understand the immense responsibility that comes with giving medication to a minor and do not take this lightly. We will always weigh the benefits of a medication carefully, along with all other options.
Relying on our experience and training in treating children and adolescents, our expert team of clinicians embraces each case with compassion and genuine interest. We would be honored to help guide your child on the journey to finding their fullest potential.